Az Emotet malware három hónap kihagyás után ismét rosszindulatú e-maileket terjeszt, újjáépíti hálózatát és világszerte megfertőzi az eszközöket.
Az Emotet egy hírhedt rosszindulatú – általában Microsoft Word és Excel dokumentumokban előforduló – e-mailben terjesztett kártevő. Amikor a felhasználók megnyitnak egy fertőzött dokumentumot – amennyiben engedélyezve vannak a makrók – letöltődik az Emotet DLL, majd várja az utasításokat egy távoli C&C szervertől. Egy korábbi NBSZ NKI riasztásban olvashatnak róla bővebben.
Az Emotet 2023-as visszatérése
Több hónapos inaktivitás után az Emotet botnet 2023.03.07. reggel 8:00-kor (EST) újra megkezdte rosszindulatú tevékenységét. Az e-mailek már létező e-mail-láncokra válaszolnak, egy csatolt .zip fájl hozzáadásával, amelyek nem jelszóval védettek. A csatolt fájlok azt a látszatot keltik, hogy egy fontos számlát tartalmaznak.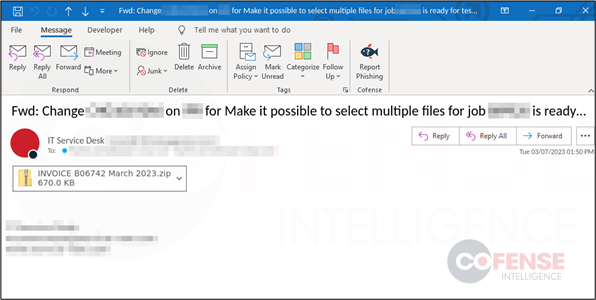 Megnyitás után a "Tartalom engedélyezése" lehetővé teszi a rosszindulatú makrók futtatását, amik letöltik az Emotet .dll-t egy külső webhelyről és helyben, a gépen végrehajtják azt.
🚨Emotet Awakens🚨 As of 1200UTC Ivan finally got E4 to send spam. We are seeing Red Dawn templates that are very large coming in at over 500MB. Currently seeing a decent flow of spam. Septet of payload URLs and ugly macros. Sample: https://t.co/fWZ8n3PlFi 1/3 pic.twitter.com/r5uuiECWnp

— Cryptolaemus (@Cryptolaemus1) March 7, 2023
Nem látható előre meddig tart majd az új Emotet-hullám, hisz az utolsó időszak kevesebb, mint két hét alatt lezajlott 2022. novemberében, ezután pedig három hónapos inaktivitás volt tapasztalható.