A litván védelmi minisztérium közleménye szerint az ország egyes állami szervei és magánvállalkozásai múlt hét óta intenzív túlterheléses (DDoS) támadás alatt állnak, szakértők pedig további támadásokat valószínűsítenek, különösen a szállítási, energia és pénzügyi szektorok tekintetében.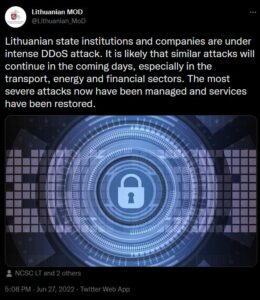 Szakértők szerint a támadáshullám nem független az orosz-ukrán háborútól. Az amerikai Resecurity biztonsági cég úgy véli, a kibertámadási kampány egy új oroszbarát hacker szerveződéshez, a Cyber Spetsnazhoz köthető. A Resecurity szerint a kollektíva sikeresen szervez be önálló botnet hálózattal rendelkező fenyegetési szereplőket, így relatíve költséghatékony módon képes rövid ideig tartó intenzív támadásokat indítani.
A The Record információi szerint a támadásban az egyik legaktívabb, szintén oroszbarát Killent csoport is részt vett, akik Telegram csatornájukon jelentették be a támadásokat, amelyek kezdetben egy Lettországban és Litvániában is alkalmazott online számviteli rendszert, majd pedig litván reptereket vettek célba.
A kampány hátterében geopolitikai okok húzódhatnak, ugyanis a litván kormányzat az Európai Unió Oroszországot célzó szankciós politikájával összhangban korlátozta az orosz exklávé, Kalingirádba tartó egyes termékek ─ például vasérc ─ vasúti szállítását az országon keresztül.